Interview with Kate Ormand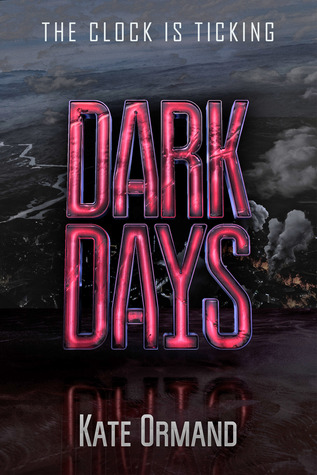 The future world has been divided into sectors–each the same as the other. Surrounded by thick steel fences, there is no way in and no way out. Yet a cyborg army penetrates each sector, picking off its citizens one by one, until no one is left. Behind the sectors' thick walls, the citizens wait to die. Few will be chosen to survive what's coming; the rest will be left behind to suffer. A new world has been created, and its rulers are incredibly selective on who will become a citizen. They want only those with important roles in society to help create a more perfect future.
Sixteen-year-old Sia lives in one of the sectors as part of a family that is far too ordinary to be picked to live. According to the digital clock that towers high above her sector, she has only fifteen days to live. Sia has seen the reports and knows a horrific death is in store for her, but she is determined to make the most of her final days. Sia refuses to mourn her short life, instead promising herself that she'll stay strong, despite being suffocated by her depressed mother and her frightened best friend. Just when Sia feels more alone than ever, she meets Mace, a mysterious boy. There is something that draws Sia to him, despite his dangerousness, and together, they join a group of rebels and embark on an epic journey to destroy the new world and its machines, and to put an end to the slaughter of innocent people.
R: Hi, Kate! I am literally so excited about the release of DD (and I'm sure that you are too) thank you so much for agreeing to answer a few questions with me today. How are you feeling about the release?
K: Thanks so much! It's a little surreal, especially when I look back on my journey with this book. The publication date has always seemed so far away, but the time flew by and now here we are. I'm both excited and nervous that it's almost "officially" out there!
R: Where did the idea for DD come from?
K: I have put the idea down to a love of dystopian books and action films. I remember thinking of the clock counting down and a cyborg army approaching a walled community where no one could escape. The story just grew from there.
R: Your cover is gorgeous! Did you get much input into the design of the book?
K: Thank you! I made a mood board, and put together some covers I liked and what I liked about them, which was submitted to the design dept. After that it was out of my hands until I saw it. There was option to discuss if I didn't like the finished design, but of course I liked it!
R: What was the editing process like? How do you find editing?
K: The first time I got the MS back it was really overwhelming. I panicked. A lot. But when I got started on it and had more idea of what was required, and the pace I worked at, I started to calm down. Each time I received edits back after that was a lot less daunting. Despite the panicking, the input from my editor got me really excited about the story all over again, and seeing it improve and grow was wonderful.
R: I loved Sia! Where did she come from? Is she based on anyone you know?
K: Thanks, Rose! I'm glad you liked her. Sia isn't based on anyone I know. I thought about her and the world she was living in for a while before I started writing. She's in a really extreme situation, so at first she just wants to make the most of the time she has left. She's more or less resigned to die because she sees no way out of what's coming. But she does have things to fight for, and she knows she needs to make decisions and make them quick. It's try or die, and once she grasps that her journey was a lot clearer to me. She just had to find her way there first.
R: How long did it take you to write DD?
K: About three months for the first draft and to edit it myself before sending it anywhere. I signed with my agent in September 2012. DD placed with Sky Pony in February 2013. We finished with the editing process some time in February/March this year. So by the time it releases it'll have been about two years since I started writing it.
R: Do you write everyday? What's your routine like and do you have any traditions? Like snacks or drinks that help you along?
K: I write most days. I get a bit restless if I don't! In terms of routine, I just get anything else I need to do out the way first, then I know it's just writing to focus on after that. I go out with the dog, or exercise on the bike or treadmill, on full writing days. So that makes me move at least. Food and drinks? I often don't realise it's lunchtime until my stomach starts growling. I do like to drink tea, though.
R: Lastly, what are you working on next?
K: I've got a few picture books releasing next year, written under the name Kate Louise. I'm also working on another YA novel, and experimenting with a MG idea!
Thank you so much for speaking with me, Kate!
And see DD's Trailer: