Interview with 'Summertime' author, Vanessa Lafaye
Today I have the honour of interviewing debut novelist, Vanessa Lafaye, author of Summertime! I was contacted by Orion who offered me the opportunity to read an arc copy of Vanessa's novel and I simply couldn't resist. Vanessa and I had an online chat about her inspiration and writing habits which is all below, but first, a little introduction to this gripping, evocative debut: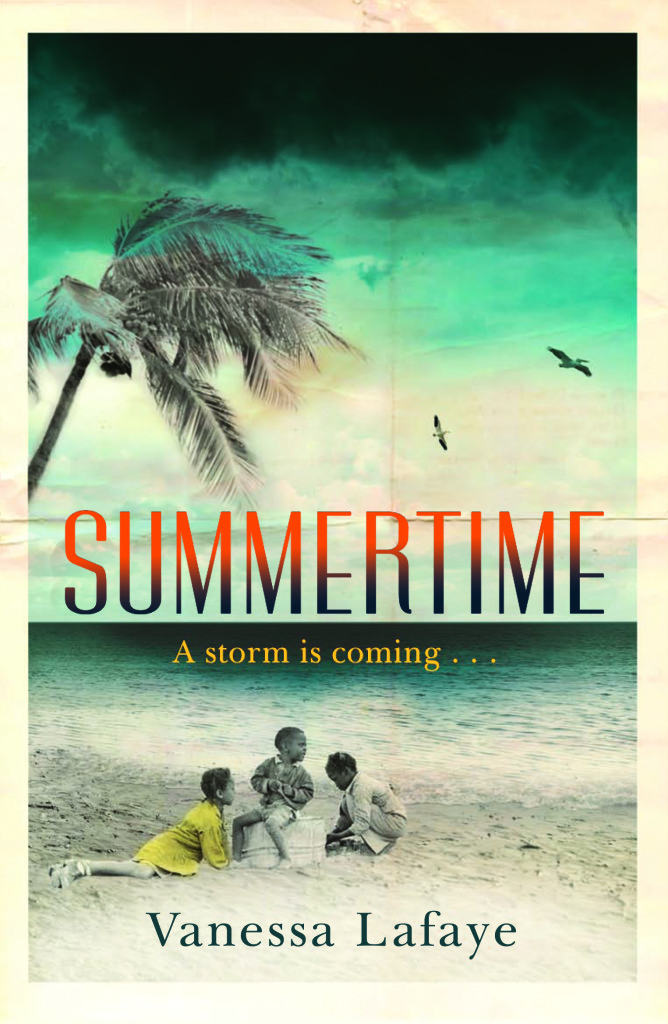 Florida Keys, 1935. Hurricane Season.
Tens of thousands of black and white men scarred by their experiences of war in Europe return home to find themselves abandoned to destitution by the US government.
The tiny, segregated community of Heron Key is suddenly overwhelmed by broken, disturbed men with new ideas about racial equality and nothing left to lose. Tensions flare when a black veteran is accused of committing the most heinous crime of all against a white resident's wife.
And not far off the strongest and most intense hurricane America has ever witnessed is gaining force.
Q: Hi Vanessa! I enjoyed your novel immensely and I'm so pleased to have the opportunity to speak to you about it. So, how long have you been writing and when did you start?
I started at the age of 6, with a fully illustrated story about a mythical creature who tattles on all the other creatures. Tattling was the biggest sin at that time of my life. I didn't start writing seriously until my 30s, when I took a feature-writing evening class. I published several features with the Guardian and the Times. In my 40s I tried writing women's fiction, with 2 novels that didn't find publishers but did get me signed with an agent. I wrote a bunch of short stories after that, while getting over the pain of all those rejections.
Q: What gave you the idea to write Summertime? How did the novel come about?
It happened through a series of random chances. I had not written anything for a while, because I was debilitated by cancer treatment, and dejected by my lack of success with other books. I was visiting my family in Florida in 2010 and read in the morning paper about a horrific lynching in 1935. I started thinking about dramatizing it, because no one has ever been prosecuted for it. Back in the UK, research on the web took me to the story of the hurricane and the veterans, and it completely captured my imagination. As a Florida native especially, I was appalled at my ignorance. I realised that, if I knew nothing about the story, chances were that it was also true of people elsewhere. I searched for novels about it but could find none, only factual accounts, so decided to attempt it myself. So you see, 'Summertime' is the book that almost wasn't!
Q: How long did it take you to write Summertime? Were there any difficulties you faced?
It took almost exactly 2 years—but that was alongside my full-time publishing job and running a community choir! I was driven by a really powerful compulsion to get the story out, which I'm sure is what kept me going. Aside from time, the main difficulties were creating a narrative that blended the facts with the fiction. I felt a responsibility to remain true to the memories of the people of the time, while creating a book that would work as commercial fiction. Then there's the need to ensure accuracy of period detail, because it's so easy for anachronisms to sneak in. I still have nightmares about that. Finally, writing the hurricane scenes was harrowing, on a physical and emotional level. I was utterly exhausted by the end.
Q: I adore the setting of the novel! Did you consciously build such evocative descriptions or did that occur naturally?
It's sort of a love letter to my home state. I plundered my childhood memories for a lot of the detail. Throughout the book, I wanted the reader to feel everything that the characters feel, in real time, like they are standing there with them. I also have a very visual imagination, so it's just how it turned out!
Q: How did you find the publishing process?
I've worked in academic publishing for almost 30 years, all in Oxford. Although it's very different to trade publishing, it gave me an understanding of the mechanics. You'll have to ask the publishers whether this made me a complete pain in the neck. Although I knew about copy-editing and marketing, proofs and covers etc., which helped, there was plenty to learn as well. You book bloggers are a revelation to me! The most unusual aspect of it was going through cancer treatment while the book was being prepared for publication. It really lightened the grimness for me. There was always something fun or interesting going on with the book, which was a wonderful contrast.
Q: Are you working on anything new at the moment?
I'm thinking my way towards a prequel. I didn't write 'Summertime' with this in mind, so it's quite a challenge. But I think it could be interesting to tell the story of how the characters became who they are. And, of course, there's more interesting history to discover.
Q: What does a typical writing day look like for you?
I wish that I had such a thing, but my life isn't like that. I have 2 jobs, plus the rest…husband, friends, family, cats. At first, I tried to free up big chunks of time for writing, but pretty quickly realized that the book would never be finished unless I wrote in every spare minute. I became really, really good at changing gears quickly: work, writing, music, work, writing, music. I fit writing in whenever I can, but it's rare that I get to do it for very long. I hear about the need for a writing schedule and routine and it makes me despair. But it's also true that enforced breaks in writing have improved the result. When I come back to it, I can see more objectively what's good and what's not. I also tend to solve plot problems when I'm away from the writing. For me, distance has been helpful.
Q: Any great books that you could recommend to us?
'Birdsong' (S Faulks), Regeneration Trilogy (P Barker), 'The Thirteenth Tale' (D Setterfield), 'The Help' (K Stockett), K Atkinson's Jackson Brodie novels, 'The Light Between Oceans' (L Stedman), 'My Dear, I Wanted to Tell You' (L Young), 'Issac's Storm' (E Larson). I'm embarking on an unusual reading challenge right now, because I've joined a group of 40+ debut novelists. I'm trying to read debuts written by the group members, which is exciting because it exposes me to new genres.
Q: And the most important question of all, what's your favorite cake? 
Now I could go on about this for hours because I LOVE to bake. It's hard to choose one, because I have a repertoire which I make regularly. The favourite from my repertoire is a chocolate marmalade slump cake. It's flourless, which is why it slumps, but it has a totally unique texture, between a brownie and a cake. Otherwise, I'd crawl through broken glass for a good carrot cake. And although it's not a cake, I could get a job as a professional Key Lime Pie taste tester.
Thank you so much for speaking with me!
V: Thank you very much for having me.
Summertime is out right now in the UK see it here on goodreads and here on amazon.