Meet Boo's Personal Artist #BoosBeard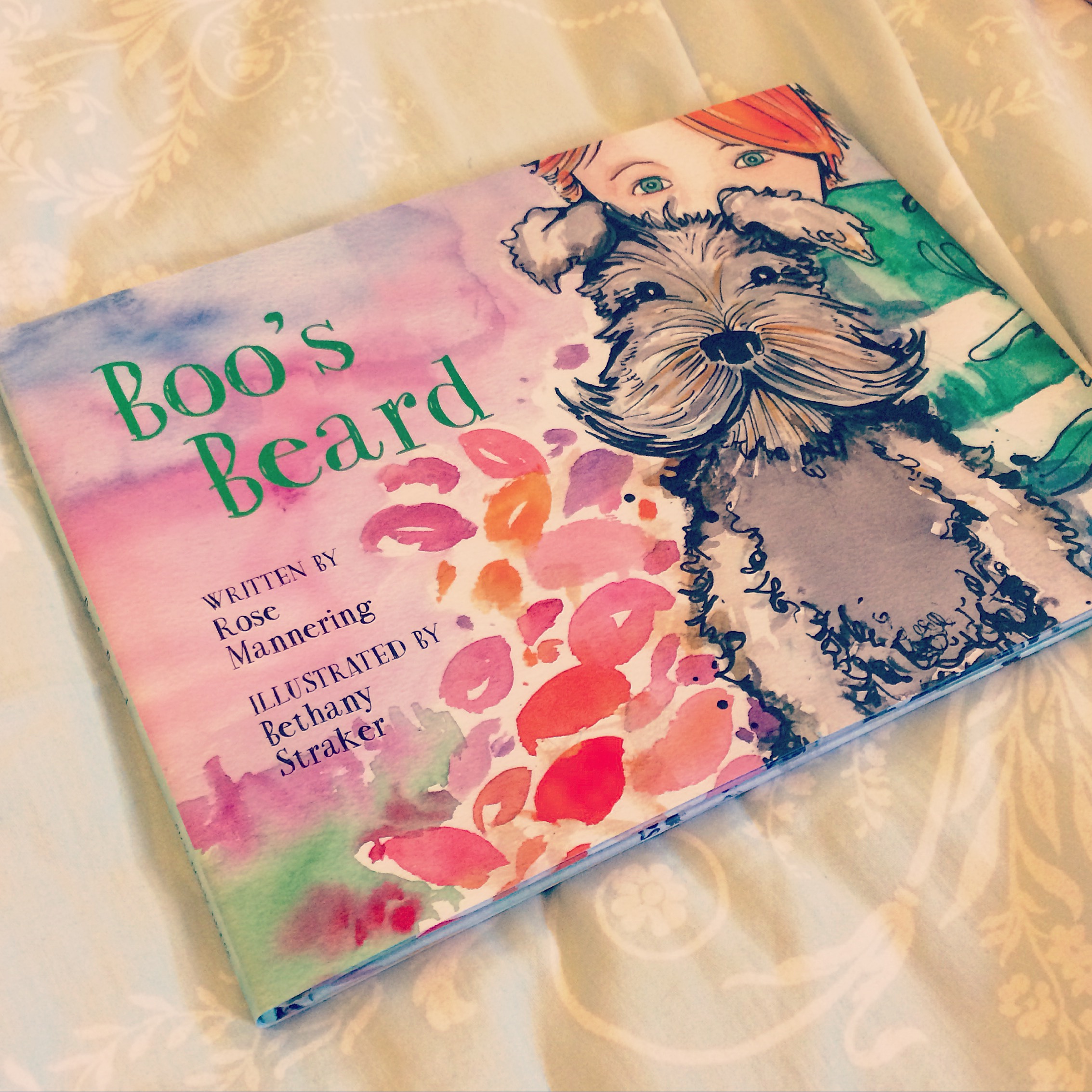 The wonderful illustrator, Bethany Straker, was blessed with the enviable job of capturing the magnificence of Boo and her fabulous beard in our picture book, Boo's Beard. Today she kindly agreed to sit down and have a chat with us about what an honour it was, and how she managed to bring those grey whiskers to life.
Q: Hello, Beth! This has been quite an exciting week for us – how does it feel to finally see Boo's Beard in the flesh?
A: Amazing! It feels like decades ago we were excitedly emailing back and forth ideas before we got our deal. But now the leaves are turning red and there's a chill in the air – it's beautifully autumnal to match the scenery of the book.
Q: What was it like drawing Boo? Did you find it difficult to capture her beautiful beard?
A: Very! Miniature Schnauzers have a very amusing – and very cute – naturally grumpy expression, so creating more positive ones was a little harder. There's so much hair above the eyes its tough not to make it look like a frown!
Q: The illustrations have a gorgeous, autumnal flavour to them – how did you come up with the colour palette?
A: The books where I work with pen and photoshop use very specific colour palettes, but it's quite the opposite with my watercolours. It's very free and fluid, and nothing is really planned, which is why I end up discounting a lot of pages! I also use a lot of black ink, so the effect can be quite muddy where I decide I don't always want the colour to dry first. This gives off a more negative mood – which I used for the sadder parts in the book.
Q: This is your second picture book with me using watercolours (the first was The Spotty Dotty Daffodil) how is your illustrative process different when you're using watercolours?
A: Apart from the colour palettes being a lot more rigid, my photoshop methods are quite similar really. I use a computer brush on the screen which I use in a similar way to my brush with watercolours. I also use black ink to 'frame' what I'm doing so that it doesn't get too out of control! I enjoy how mad the colours look with watercolours before I apply the ink to bring things together.
Q: How long does it normally take you to create a spread?
A: Some of the pages are quite quick – for example if there is a scene with a lot of similar colours I focus that page more on the inks afterwards. But there's a lot of trial and error and a lot of waiting for things to dry.
Q: Did Boo's Beard challenge you artistically in any way?
A: I think I found it one of the most difficult books I've ever worked on! I enjoyed the challenge immensely, but to get a likeness of a specific dog breed whilst attempting various different facial expressions was tough – especially as the dog had to have a 'character' to her without looking different on each spread. I hope I pulled it off!
Q: Where do you work?
A: I work at home, with my own dog at my feet – a cavapoo called Alf. Since I had my son 10 months ago I've been mostly working in the evenings so it's changed around a bit. I wouldn't change it for anything though.
Q: Lastly (and most importantly) what's your favourite beverage and snack to have when you're working?
A: Well….in the evenings I'm afraid it's a glass of red! But only in the evenings, ok? Kettle crisps go very nicely, but all those watercolours and inks mean food and drink is a dangerous thing to have close by! I don't want to dip my brush in my wine, either.
Thank you so much for answering my questions, Beth!
It was a pleasure!
Boo's Beard is out now and ready to arrive at your house with the click of a few buttons. Get it on Amazon, Book Depository or Barnes and Noble online, or if you live in the states, ask for it in your nearest bookstore. Everybody needs a bit of beard in their lives!